"In todays' world where individuals are increasingly aware of ecological connectedness and globally shared responsibility, the teaching and learning of English needs to make contributions to education and humans' well-being on a long-term, steady, reliable, and meaningful basis. Through culture teaching, English has highlighted gender equality. Through employment opportunities, English has given more access to job markets. Through social network, English has shifted a portion of human population further way from poverty and hunger. English has helped build social network, advocate intercultural understanding, and promote a stronger economy. However, the picture is not always positive but we need to look at two sides of the same theme. In the everyday classroom, teachers are performing their job either with or without the above awareness. In textbooks, writers are either supporting or overlooking such aims. In their learning, students are either guided or left alone to handle the challenge of such future. In many training programs, the practice of skills and knowledge in fixed durations have hardly been followed by research effort to witness more long-term impact. This overall situation with its pros and cons requires us educators of English to come together and share our voices toward making the sustainability endeavour more pronounced in our thinking, more productive in our pedagogy, and more collaborative in our policy. We would like to appeal for your sharing of knowledge, expertise, experience, understanding and action plans through writing and presenting at this conference based on the following sub-themes and more. With unwavering passion we look forward to hearing your diverse voices in this endeavour towards making our discipline a more worthwhile cause for us all, both locally and globally."
We invite researchers, policy makers, curriculum and materials developers, lecturers, teachers, language practitioners, ELT related companies, graduate students, and related parties coming across different countries to join this international conference by submitting your abstracts. All abstracts submitted should be relevant to the theme of the conference
"ELT for Sustainable Development"
We are also welcoming abstracts which specifically address (but not limited to) one of the following topics:
Local wisdom in English Classroom
Integrating religious values in ELT
Teaching English with Environmental issues
ELT and Humanity
Multiculturalism in ELT
Human right in ET
Building good attitude with ELT activities
Entrepreneurship in ELT
Applied linguistics and ELT
Literature in ELT
and other related topics.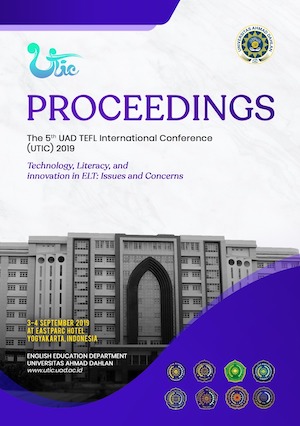 Proceedings of the 4th UAD TEFL International Conference
List of accepted papers
Table of Contents
Articles
| | | |
| --- | --- | --- |
| | Achmad Hilal Madjdi, Atik Rokhayani | 1-6 |
| | | |
| --- | --- | --- |
| | Adetya Norizkyka, Yulieda Hermaniar | 7-14 |
| | | |
| --- | --- | --- |
| | Agustia Pristiana Maulida, Sucipto Sucipto | 20-27 |
| | | |
| --- | --- | --- |
| | Arifiana Tri Wulandari, Soviyah Soviyah | 41-47 |
| | | |
| --- | --- | --- |
| | Arik Susanti, Anis Trisusana | 48-53 |
| | | |
| --- | --- | --- |
| | Arita Destianingsih, Ari Satria | 54-64 |
| | | |
| --- | --- | --- |
| | Aryusmar Aryusmar, Muhartoyo Muhartoyo | 65-78 |
| | | |
| --- | --- | --- |
| | Aulia Hanifah Qomar | 85-90 |
| | | |
| --- | --- | --- |
| | Boni Saputra, Rionaldi Rionaldi, Aswandi Aswandi | 91-99 |
| | | |
| --- | --- | --- |
| | Defy Gustianing, Hadiyan Muhammad Hariz | 115-125 |
| | | |
| --- | --- | --- |
| | Demita Sari, Noor Chairani | 126-136 |
| | | |
| --- | --- | --- |
| | Dewi Sartika, Rachmanita Rachmanita | 137-143 |
| | | |
| --- | --- | --- |
| | Diyah Ayu Rizqiani | 154-171 |
| | | |
| --- | --- | --- |
| | Dwi Apcita Estorina, Ikmi Nur Oktavianti | 172-178 |
| | | |
| --- | --- | --- |
| | Dwi Rahayu, Chusna Apriyanti | 184-191 |
| | | |
| --- | --- | --- |
| | Ermawati Zulikhatin Nuroh, Vidya Mandarani | 201-207 |
| | | |
| --- | --- | --- |
| | Eva Faliyanti, Nanda Habib Firdaus | 208-217 |
| | | |
| --- | --- | --- |
| | Fhesti Mayang Sari | 228-233 |
| | | |
| --- | --- | --- |
| | Fitri Palupi Kusumawati | 252-260 |
| | | |
| --- | --- | --- |
| | Fransisca Endang Lestariningsih, Arida Susyetina, Lucia Dwi Krisnawati | 261-269 |
| | | |
| --- | --- | --- |
| | Ginanjar Arif Wijaya | 270-277 |
| | | |
| --- | --- | --- |
| | Gregory Goodmacher, Asako Kajiura | 278-285 |
| | | |
| --- | --- | --- |
| | Khafidhoh Khafidhoh | 313-316 |
| | | |
| --- | --- | --- |
| | Kristiandi Kristiandi, Hefy Sulistyawati, Dewi Cahyaningrum | 317-321 |
| | | |
| --- | --- | --- |
| | Lilik Tri Mulyani | 322-329 |
| | | |
| --- | --- | --- |
| | Lutfy Fajar Hudayah | 330-339 |
| | | |
| --- | --- | --- |
| | M. Luthfi Imama, Rahmi Munfangati | 340-349 |
| | | |
| --- | --- | --- |
| | Mahendra Puji Permana Aji, Suhartono Suhartono | 350-355 |
| | | |
| --- | --- | --- |
| | Miftah Royani, Dwi Puji Lestari | 356-364 |
| | | |
| --- | --- | --- |
| | Muhammad Fatkhu Arifin | 365-370 |
| | | |
| --- | --- | --- |
| | Niken Fatma Putri, Fauzia Fauzia | 371-381 |
| | | |
| --- | --- | --- |
| | Novi Sri Rahmi, Arilia Triyoga | 387-396 |
| | | |
| --- | --- | --- |
| | Nur Halimah, Megawati Basri | 397-401 |
| | | |
| --- | --- | --- |
| | Nurnaningsih Nurnaningsih | 402-409 |
| | | |
| --- | --- | --- |
| | Nurul Hasanah, Japen Sarage | 410-415 |
| | | |
| --- | --- | --- |
| | Nuryansyah Adijaya, Ratih Pertiwi | 416-420 |
| | | |
| --- | --- | --- |
| | Pradana Akbar Tanjung, Fitri Hidayati, Andyani Larasati | 429-435 |
| | | |
| --- | --- | --- |
| | Pratiwi Tri Utami, Dwi Santoso | 436-446 |
| | | |
| --- | --- | --- |
| | Ria Yulianti, Achyana Izzatun Nisa | 447-455 |
| | | |
| --- | --- | --- |
| | Rizka Dinta Murbaningtyas | 456-461 |
| | | |
| --- | --- | --- |
| | Septian Dwi Cahyo, Ika Rizqi Vitasari, Sucipto Sucipto | 462-470 |
| | | |
| --- | --- | --- |
| | Surti Nur Utami, Rina Wahyuni | 485-490 |
| | | |
| --- | --- | --- |
| | Theresia Widihartanti | 502-509 |