---
---
Proceedings of the 5th UAD TEFL International Conference 
is an International proceeding of International TEFL conference held by English Education Department of Universitas Ahmad Dahlan, Indonesia every two years, usually, it is held in October or November. The articles published in this proceeding are the papers presented at the 5th UAD TEFL International conference. The aims of the conference are to provide an international forum for educators, researchers, professionals to share their ideas on all topics related to English language teaching and learning, English literature in ELT, and linguistics. 
The manuscript submitted for presentation in this conference must be original research, written in English, and not simultaneously submitted to another journal or conference. All submitted manuscripts will be initially reviewed by editors and are then evaluated by a minimum of two reviewers through the double-blind review process. This is to ensure the quality of the published manuscripts in the proceedings.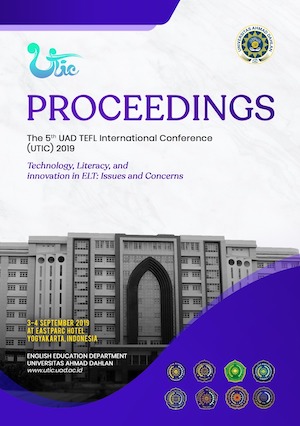 Announcements
No announcements have been published.
Proceedings of the 5th UAD TEFL International Conference
UTIC (UAD TEFL International Conference Technology, Literacy, and Innovations in ELT: Issues and Concerns. To realize the mission, English Education Department of Universitas Ahmad Dahlan Yogyakarta, Indonesia needs to take Part in holding the conference by inviting the presenters and participants coming from many countries in the world. UTIC is a once-in-two-year conference used as a medium to take and give the current issues in English language teaching and to get the possible solution. The success of The 1st UAD TEFL Conference (National Scope in 2009), The 2nd UTIC 2012 (ASEAN Scope coverage and The 3rd UTIC 2014 intended to have the presenters and participants share their ideas, cultures, and experiences among Asia and beyond. The 4th UTIC 2017 is also intended to facilitate the presenters and participants discuss their ideas from different perspectives of Teaching English as a Foreign Language.
Table of Contents
Articles
(1) Muhammad Tolkhah Adityas (University of Auckland, New Zealand)
(2) Ikmi Nur Oktavianti (Universitas Ahmad Dahlan, Indonesia)
(3) Icuk Prayogi (Universitas PGRI Semarang, Indonesia)


10.12928/utic.v2.5730.2019

Views of Abstract: 0 | PDF: 0

10-18
(1) Rifky Dora Wijayati (Southwest University, China)
(2) Khafidhoh Khafidhoh (Universitas Ahmad Dahlan, Indonesia)


10.12928/utic.v2.5732.2019

Views of Abstract: 0 | PDF: 0

29-33
(1) Muhamad Argi Afriandi (Universitas Ahmad Dahlan, Indonesia)
(2) Nur Fatimah (Universitas Ahmad Dahlan, Indonesia)


10.12928/utic.v2.5733.2019

Views of Abstract: 0 | PDF: 0

34-40
(1) Lusi Elisa (STKIP Tunas Palapa, Indonesia)
(2) Rina Wahyuni (STKIP Tunas Palapa, Indonesia)


10.12928/utic.v2.5735.2019

Views of Abstract: 0 | PDF: 0

48-53
(1) Raden Muhammad Ali (Universitas Ahmad Dahlan, Indonesia)
(2) Aria Candramukti (Universitas Ahmad Dahlan, Indonesia)


10.12928/utic.v2.5737.2019

Views of Abstract: 0 | PDF: 0

62-68
(1) Listiani Listiani (Universitas Muhammadiyah Purwokerto, Indonesia)


10.12928/utic.v2.5739.2019

Views of Abstract: 0 | PDF: 0

73-78
(1) Rahmi Munfangati (Universitas Ahmad Dahlan, Indonesia)
(2) Rifdah Diniatulhaq (Universitas Ahmad Dahlan, Indonesia)


10.12928/utic.v2.5741.2019

Views of Abstract: 0 | PDF: 0

84-89
(1) Jamaluddin Jamaluddin (Universitas Muhammadiyah Sidenreng Rappang, Indonesia)
(2) Muhammad Hanafi (Universitas Muhammadiyah Sidenreng Rappang, Indonesia)
(3) Andi Sadapotto (Universitas Muhammadiyah Sidenreng Rappang, Indonesia)


10.12928/utic.v2.5742.2019

Views of Abstract: 0 | PDF: 0

90-95
(1) Yulnada Sari (Universitas Ahmad Dahlan, Indonesia)
(2) Bambang Widi Pratolo (Universitas Ahmad Dahlan, Indonesia)
(3) Dhei Klaudiya (Universitas Ahmad Dahlan, Indonesia)
(4) Bella Nusa Bahari (Universitas Ahmad Dahlan, Indonesia)


10.12928/utic.v2.5743.2019

Views of Abstract: 0 | PDF: 0

96-102
(1) Prasetyo Hazairin Eko (Universitas Sarjanawiyata Tamansiswa, Indonesia)
(2) Kurniati Victa Sari Dwi (Universitas Sarjanawiyata Tamansiswa, Indonesia)
(3) Kusuma Adhi (Universitas Sarjanawiyata Tamansiswa, Indonesia)


10.12928/utic.v2.5744.2019

Views of Abstract: 0 | PDF: 0

103-111
(1) Suprih Ambawani (Institut Sains & Teknologi AKPRIND, Indonesia)
(2) Bernadetta Eko Putranti (Institut Sains & Teknologi AKPRIND, Indonesia)


10.12928/utic.v2.5745.2019

Views of Abstract: 0 | PDF: 0

112-118
(1) Moch. Panji Prabaskoro (Universitas Ahmad Dahlan, Indonesia)
(2) Prayudha Prayudha (Universitas Ahmad Dahlan, Indonesia)


10.12928/utic.v2.5746.2019

Views of Abstract: 0 | PDF: 0

119-128
(1) Efit Eriani (Universitas Ahmad Dahlan, Indonesia)
(2) Bambang Widi Pratolo (Universitas Ahmad Dahlan, Indonesia)
(3) Yuyun Nailufer (Universitas Ahmad Dahlan, Indonesia)
(4) Devi Martha Astuti (Universitas Ahmad Dahlan, Indonesia)


10.12928/utic.v2.5747.2019

Views of Abstract: 0 | PDF: 0

129-136
(1) Arifiana Tri Wulandari (Universitas Ahmad Dahlan, Indonesia)
(2) Bambang Widi Pratolo (Universitas Ahmad Dahlan, Indonesia)
(3) Rika Junianti (Universitas Ahmad Dahlan, Indonesia)


10.12928/utic.v2.5748.2019

Views of Abstract: 0 | PDF: 0

137-145
(1) Illyin Illyin (Universitas Muhammadiyah Surabaya, Indonesia)
(2) Gusti Nur Hanifah (Universitas Muhammadiyah Surabaya, Indonesia)
(3) Sofi Yunianti (Universitas Surabaya, Indonesia)


10.12928/utic.v2.5749.2019

Views of Abstract: 0 | PDF: 0

146-151
(1) Anggun Fitriana Dewi (Universitas Sebelas Maret, Indonesia)
(2) Sumardi Sumardi (Universitas Sebelas Maret, Indonesia)
(3) Ngadiso Ngadiso (Universitas Sebelas Maret, Indonesia)


10.12928/utic.v2.5750.2019

Views of Abstract: 0 | PDF: 0

152-157
(1) Sigit Suharjono (Universitas Muhammadiyah Kotabumi, Indonesia)


10.12928/utic.v2.5751.2019

Views of Abstract: 0 | PDF: 0

158-164
(1) Dewi Sri Kuning (Universitas Muhammadiyah Kotabumi, Indonesia)
(2) Rohaina Rohaina (Universitas Muhammadiyah Kotabumi, Indonesia)


10.12928/utic.v2.5753.2019

Views of Abstract: 0 | PDF: 0

172-176
(1) Astry Fajria (Universitas Ahmad Dahlan, Indonesia)
(2) Aprilia Nilham (Universitas Ahmad Dahlan, Indonesia)


10.12928/utic.v2.5754.2019

Views of Abstract: 0 | PDF: 0

177-181
(1) Arilia Triyoga (Universitas Ahmad Dahlan, Indonesia)
(2) Apriyana Kartika Putri (Universitas Ahmad Dahlan, Indonesia)


10.12928/utic.v2.5755.2019

Views of Abstract: 0 | PDF: 0

182-185
(1) Yuliana Ningsih (Politeknik Negeri Tanah Laut, Indonesia)
(2) Kurnia Dwi Artika (Politeknik Negeri Tanah Laut, Indonesia)


10.12928/utic.v2.5758.2019

Views of Abstract: 0 | PDF: 0

203-209
(1) Zakiyyah Attasyriky (Universitas Ahmad Dahlan, Indonesia)
(2) Hendra Darmawan (Universitas Ahmad Dahlan, Indonesia)


10.12928/utic.v2.5759.2019

Views of Abstract: 0 | PDF: 0

210-216
(1) Pratiwi Amelia (STKIP Muhammadiyah Bangka Belitung, Indonesia)


10.12928/utic.v2.5760.2019

Views of Abstract: 0 | PDF: 0

217-221
(1) Dwi Indra Aprilliandari (STKIP Muhammadiyah Bangka-Belitung, Indonesia)


10.12928/utic.v2.5763.2019

Views of Abstract: 0 | PDF: 0

227-231
(1) Agci Hikmawati (STKIP Muhammadiyah Bangka Belitung, Indonesia)
(2) Rindu Handayani (STKIP Muhammadiyah Bangka Belitung, Indonesia)


10.12928/utic.v2.5764.2019

Views of Abstract: 0 | PDF: 0

232-235
(1) Sam Hermansyah (Universitas Muhammadiyah Sidenreng Rappang, Indonesia)
(2) Andi Sadapotto (Universitas Muhammadiyah Sidenreng Rappang, Indonesia)


10.12928/utic.v2.5765.2019

Views of Abstract: 0 | PDF: 0

236-239
(1) Hardianti Hardianti (Universitas Muhammadiyah Sidenreng Rappang, Indonesia)
(2) Jamaluddin Ahmad (Universitas Muhammadiyah Sidenreng Rappang, Indonesia)
(3) Syam Hermansyah (Universitas Muhammadiyah Sidenreng Rappang, Indonesia)


10.12928/utic.v2.5795.2019

Views of Abstract: 0 | PDF: 0

246-251