---
| | |
| --- | --- |
| Proceedingl title | International Proceeding of Youth Communication Day |
| Initials | YCD |
| Abbreviation | You. Commun. Day |
| Frequency | 1 issues per year |
| DOI | process |
| Online ISSN | process |
| Editor-in-chief | Choirul fajri |
| Managing Editor | Dani Fadillah |
| Publisher | Prodi Ilmu Komunikasi - Fakultas sstra, Budaya, dan Komunikasi - Universitas Ahmad Dahlan |
| Citation Analysis | Google Scholar |
---
The Youth Communication Day (YCD) is an online, multi-media, academic proceeding that adheres to the highest standards of peer review and engages established and emerging scholars from anywhere in the world.

The YCD is an interdisciplinary proceding that, while centered in literature, culture, and communication, is open and welcoming to contributions from the many disciplines and approaches that meet at the crossroads that is communication study. The spectrum of topics include but not limited to: New Media; Political Communication; Advertising, Press and Television Broadcasting; Public Relations; Semiotics; Public Opinion; Culture and Social Interaction; Communication and National Resilience; Communication and Policies; Communication, War, and Conflicts; Health Communication; Globalization and Social Impact; Media, Democracy and Integration; Media Literacy and Media Education; Media and Tourism; Media and Development; Media, Popular Culture, and Society; Media and Religion; Media and Identity; Politics, Hegemony, and the Media; Gender and Sexuality in the Media; The Social Media and Subcultures; Youth and Media Globalization; Information Communication Technology; Audience Analysis.

These topics are addressed in full-length academic articles, critical statements on current issues, developmental practice, and reviews of books based education and learning. The proceeding presents an innovative platform for researchers, students, practitioners and educators to both learn from and contribute to the field. All articles are subject to initial Editor screening and then a rigorous double-blind peer-review process before publication.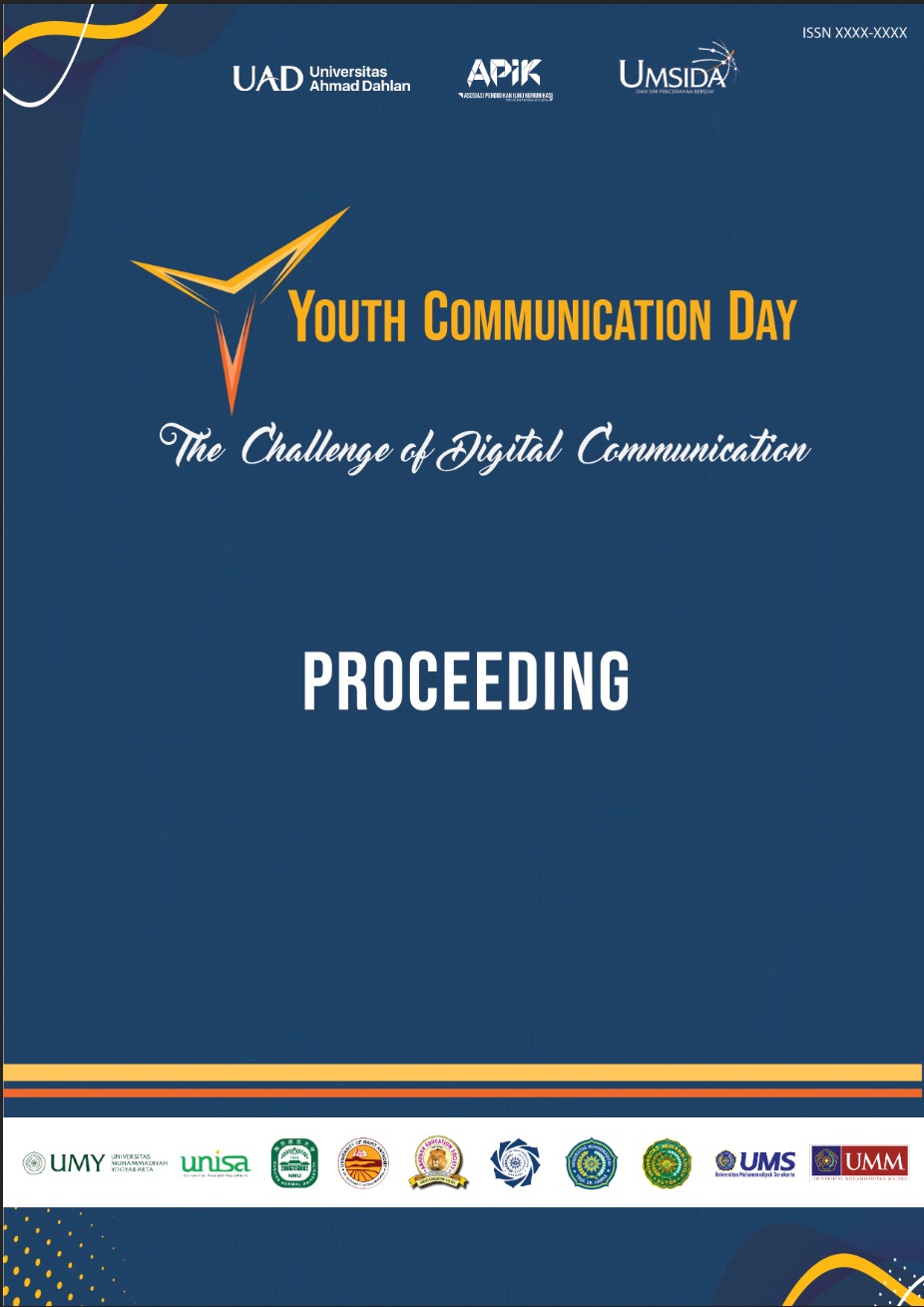 Announcements
No announcements have been published.
Vol 1: 2023
Table of Contents
Articles
(1) Arnold Andhika Maulana Yusuf (Muhammadiyah University Surakarta, Indonesia)
(2) Vinisa Nurul Aisyah (Muhammadiyah University Surakarta, Indonesia)


10.12928/ycd.v1i1.11806

Views of Abstract: 0 | PDF: 0 | PDF: 0

1-8
(1) Muhammad Arif (Universitas Ahmad Dahlan, Indonesia)


10.12928/ycd.v1i1.11811

Views of Abstract: 0 | PDF: 0 | PDF: 0

9-19
(1) Lovia Evanne (Universitas Muhammadiyah Kotabumi, Indonesia)


10.12928/ycd.v1i1.11914

Views of Abstract: 0 | PDF: 0

20-25
(1) Adindha Nurhalifah Pusadan (Universitas Muhammadiyah Luwuk Banggai, Indonesia)
(2) Suanti Tunggala (Universitas Muhammadiyah Luwuk Banggai, Indonesia)
(3) Ken Amasita Saadjad (Universitas Muhammadiyah Luwuk Banggai, Indonesia)


10.12928/ycd.v1i1.11936

Views of Abstract: 0 | PDF: 0

26-31
(1) Syahlia Sudirman (Muhamadiyah Luwuk Banggai University, Indonesia)
(2) Suanti Tunggala (Muhamadiyah Luwuk Banggai University, Indonesia)
(3) Ken Amasita Saadjad (Muhamadiyah Luwuk Banggai University, Indonesia)


10.12928/ycd.v1i1.12014

Views of Abstract: 0 | PDF: 0

32-40
(1) Rashiv Aulia Bagasdiva (Muhammadiyah University of Surakarta, Indonesia)
(2) Sidiq Setyawan (Muhammadiyah University of Surakarta, Indonesia)


10.12928/ycd.v1i1.12017

Views of Abstract: 0 | PDF: 0

41-47
(1) Syahlia Sudirman (Muhammadiyah Luwuk Banggai University, Indonesia)


10.12928/ycd.v1i1.12166

Views of Abstract: 0 | PDF: 0

48-58
(1) Wahyu Setyo Prabowo (Universitas Muhammadiyah Surakarta, Indonesia)
(2) Sidiq Setyawan (Universitas Muhammadiyah Surakarta, Indonesia)


10.12928/ycd.v1i1.12021

Views of Abstract: 0 | PDF: 0

59-66
(1) Yhusub Bayu Anggoro (Muhammadiyah University of Surakarta, Indonesia)
(2) Sidiq Setyawan (Muhammadiyah University of Surakarta, Indonesia)


10.12928/ycd.v1i1.12024

Views of Abstract: 0 | PDF: 0

67-75
(1) Giffari Adham (University Muhammadiyah of Surakarta, Indonesia)
(2) Sidiq Setyawan (University Muhammadiyah of Surakarta, Indonesia)


10.12928/ycd.v1i1.12025

Views of Abstract: 0 | PDF: 0

76-83
(1) Naufal Ahmad Dzaky (Universitas Muhammadiyah Surakarta, Indonesia)
(2) Sidiq Setyawan (Universitas Muhammadiyah Surakarta, Indonesia)


10.12928/ycd.v1i1.12026

Views of Abstract: 0 | PDF: 0
(1) Shofi Majid Abiyyi (Muhammadiyah Surakarta University, Indonesia)
(2) Nieldya Nofandrilla (Muhammadiyah Surakarta University, Indonesia)


10.12928/ycd.v1i1.12029

Views of Abstract: 0 | PDF: 0
(1) Faisal Bayu Ajie (Muhammadiyah Surakarta University, Indonesia)
(2) Sidiq Setyawan (Muhammadiyah Surakarta University, Indonesia)


10.12928/ycd.v1i1.12032

Views of Abstract: 0 | PDF: 0
(1) Affa Dwi Rachmawati (Muhammadiyah Cirebon University, Indonesia)
(2) Lisna Novita (Muhammadiyah Cirebon University, Indonesia)


10.12928/ycd.v1i1.12041

Views of Abstract: 0 | PDF: 0
(1) Wisna Rahana Harahap (Universitas Ahmad Dahlan, Indonesia)
(2) Muhammad Thoyib Amali (Universitas Ahmad Dahlan, Indonesia)


10.12928/ycd.v1i1.12043

Views of Abstract: 0 | PDF: 0
(1) Hesti Ningrum Safitri (Ahmad Dahlan University, Indonesia)
(2) Indah Wenerda (Ahmad Dahlan University, Indonesia)


10.12928/ycd.v1i1.12060

Views of Abstract: 0 | PDF: 0
(1) Trizki Amalia Putri (Ahmad Dahlan University, Indonesia)
(2) Vani Dias Adiprabowo (Ahmad Dahlan University, Indonesia)


10.12928/ycd.v1i1.12081

Views of Abstract: 0 | PDF: 0
(1) Aditya Febriansyah (Muhammadiyah Surakarta University, Indonesia)


10.12928/ycd.v1i1.12085

Views of Abstract: 0 | PDF: 0
(1) Ulfa Yuniati (Universitas Muhammadiyah Bandung, Indonesia)
(2) Euis Evi Puspitasari (Universitas Muhammadiyah Bandung, Indonesia)
(3) Vivih Alawiyah (Universitas Muhammadiyah Bandung, Indonesia)
(4) Aghnia Rahmatillah (Universitas Muhammadiyah Bandung, Indonesia)


10.12928/ycd.v1i1.12086

Views of Abstract: 0 | PDF: 0
(1) Mohammad Ya'isy Ghifari (Universitas Muhammadiyah Jakarta, Indonesia)


10.12928/ycd.v1i1.12260

Views of Abstract: 0 | PDF: 0
(1) Ibnu Mas'ud (Muhammadiyah University of Surakarta, Indonesia)


10.12928/ycd.v1i1.12268

Views of Abstract: 0 | PDF: 0
(1) Tiara Olivia (Universitas Ahmad Dahlan, Indonesia)
(2) Muhammad Thoyib Amali (Universitas Ahmad Dahlan, Indonesia)


10.12928/ycd.v1i1.12047

Views of Abstract: 0 | PDF: 0
(1) Muhammad Aditya Fitriansyah (Universitas Muhammadiyah Sidoarjo, Indonesia)


10.12928/ycd.v1i1.12265

Views of Abstract: 0 | PDF: 0
(1) Rino Andreas (Universitas Muhammadiyah Karanganyar, Indonesia)
(2) Candra Rahmat Sanjaya (Universitas Muhammadiyah Karanganyar, Indonesia)
(3) Andrian Yohana Megantoro (Universitas Muhammadiyah Karanganyar, Indonesia)


10.12928/ycd.v1i1.12272

Views of Abstract: 0 | PDF: 0
(1) Nur Indah Resti Wahab (Universitas Muhammadiyah Bandung, Indonesia)
(2) Umi Soleha (Universitas Muhammadiyah Bandung, Indonesia)
(3) Tania Rahmawati (Universitas Muhammadiyah Bandung, Indonesia)
(4) Pitri Piattri Maningsih (Universitas Muhammadiyah Bandung, Indonesia)
(5) Tommy Ardiansyah Shiddiq (Universitas Muhammadiyah Bandung, Indonesia)
(6) Ulfa Yuniati (Universitas Muhammdiyah Bandung, Indonesia)


10.12928/ycd.v1i1.12273

Views of Abstract: 0 | PDF: 0