---
International Conference on Education (ICE) is an annual international forum which aims to provide opportunities for educators and researchers to share their ideas, best practices, and research findings in the scope of education. Education is one of the most affected sectors in the Covid-19 pandemic. Educators are forced to adapt a new practice of teaching delivery using the existing digital platform. Various problems occured during the implementation which then raising a question about the effectiveness of the education practices using the sudden-adopted methods. Therefore, it is necessary to open forum to discuss about problems and strategies of education in responding the need of students, teachers, and policy makers during the pandemic.
In 2022, the ICE welcomes papers with the following topics:
Educational acceleration in a digital character society;
Pandemic crisis risks, impacts, and mitigation covering global perspective of social, humanities, and resilience;
Bridging literacy, culture, and society towards the Education 5.0.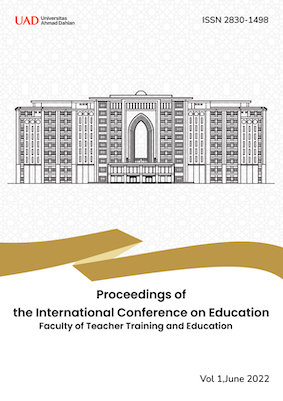 The manuscript must be written in English, and not be simultaneously submitted to another journal or conference. It could be an original research, literature review on a particular education topic, or a report of best practice. All submitted manuscripts will be initially reviewed by editors and are then evaluated by two international reviewers through the double-blind review process. This is to ensure the quality of the published manuscripts in the ICE.
Registering as a presenter
We required the presenters to register their abstract through the following link (PRESENTER REGISTRATION).
Please use the following TEMPLATE to write your abstract.
Registering as a participant
We also welcome a non presenter participant to join this conference. Please register to the following link (NON PRESENTER REGISTRATION).
Fullpaper Submission

After being accepted to present your paper in this conference, please submit your fullpaper through the following link. Please use this TEMPLATE to write your paper.
1. Already have a Username/Password for International Conference on Education? GO TO LOGIN
2. Need a Username/Password? GO TO REGISTRATION (will be open after abstract acceptance)
Registration and login are required to submit items online and to check the status of current submissions.
---
Announcements
IMPORTANT DATES OF ICE 2022

Abstract Submission Deadline: 28 February 2022

Abstract Acceptance Announcement: 1 March 2022

Conference Date: 3-4 March 2022

Full Paper Submission Deadline: 11 March 2022

Acceptance for ICE Proceedings: 18 April 2022

ICE Proceedings Published Date: 1 June 2022

Posted: 2022-02-06
Proceedings of ICE, Volume 1, June 2022
Table of Contents
Front Matter
Articles
(1) Ida Nurmila Isandespha (University of Canberra, Australia)


Views of Abstract: 0 | PDF: 0

1-7
(1) Reni Sasmita (Universitas Ahmad Dahlan, Indonesia)
(2) Akhsani Sholihati Yasri (Universitas Ahmad Dahlan, Indonesia)
(3) Yuike Silvira (Universitas Ahmad Dahlan, Indonesia)
(4) Asyharinur Ayuning Putriana Pitaloka (Universitas Ahmad Dahlan, Indonesia)


Views of Abstract: 0 | PDF: 0

8-15
(1) Mohamad Saripudin (Universitas Pendidikan Indonesia, Indonesia)
(2) Ilfiandra Ilfiandra (Universitas Pendidikan Indonesia, Indonesia)
(3) Yaya Sunarya (Universitas Pendidikan Indonesia, Indonesia)


Views of Abstract: 0 | PDF: 0

16-24
(1) Millatina Millatina (Universitas Negeri Yogyakarta, Indonesia)
(2) Mukhamad Murdiono (Universitas Negeri Yogyakarta, Indonesia)
(3) Dikdik Baehaqi Arif (Universitas Ahmad Dahlan, Indonesia)


Views of Abstract: 0 | PDF: 0

25-34
(1) Rifka Florensia (Universitas Surabaya, Indonesia)


Views of Abstract: 0 | PDF: 0

35-41
(1) Kirana Prama Dewi (Universitas Ahmad Dahlan, Indonesia)


Views of Abstract: 0 | PDF: 0

42-52
(1) Tika Putri Wulansari (Universitas Sebelas Maret, Indonesia)
(2) Sudiyanto Sudiyanto (Universitas Sebelas Maret, Indonesia)
(3) Sri Sumaryati (Universitas Sebelas Maret, Indonesia)


Views of Abstract: 0 | PDF: 0

53-60
(1) Santi Sartika (Universitas Ahmad Dahlan, Indonesia)
(2) Dita Franesti (Universitas Ahmad Dahlan, Indonesia)
(3) Latifah Apriana Putri (Universitas Ahmad Dahlan, Indonesia)
(4) Wisnu Aji Saputra (Universitas Ahmad Dahlan, Indonesia)


Views of Abstract: 0 | PDF: 0

61-67
(1) Neneng Mutmainah (Universitas Pendidikan Indonesia, Indonesia)
(2) Ilfiandra Ilfiandra (Universitas Pendidikan Indonesia, Indonesia)
(3) Anne Hafina (Universitas Pendidikan Indonesia, Indonesia)


Views of Abstract: 0 | PDF: 0

68-76
(1) Dewi Melianasari Surya (Universitas Pendidikan Indonesia, Indonesia)
(2) Mamat Supriatna (Universitas Pendidikan Indonesia, Indonesia)
(3) Amin Budiamin (Universitas Pendidikan Indonesia, Indonesia)
(4) Amirul Hazmi Hamdan (Universitas Pendidikan Indonesia, Indonesia)


Views of Abstract: 0 | PDF: 0

77-82
(1) Nurul Fatonah (Universitas Garut, Indonesia)
(2) Ani Yanti Ginanjar (Universitas Garut, Indonesia)
(3) Husnul Khatimah (Universitas Garut, Indonesia)


Views of Abstract: 0 | PDF: 0

83-88
(1) Ahmad Yudiar (Universitas Pendidikan Indonesia, Indonesia)
(2) Mamat Supriatna (Universitas Pendidikan Indonesia, Indonesia)
(3) Eka Sakti Yudha (Universitas Pendidikan Indonesia, Indonesia)


Views of Abstract: 0 | PDF: 0

89-98
(1) Syadilla Rahmansyah (Universitas Airlangga, Indonesia)
(2) Ihya' Ulumuddin Ar-Rayyan (Universitas Airlangga, Indonesia)
(3) Tasya Azelya Putri Andiani (Universitas Airlangga, Indonesia)
(4) Az-Zahra Helmi Putri Rahayu (Universitas Airlangga, Indonesia)


Views of Abstract: 0 | PDF: 0

99-109
Back Matter
| | | |
| --- | --- | --- |
| | Back Cover of Proceedings | |